The ideoservo team tried both the Homido and Durovis Dive 5 VR headsets at Laval Virtual 2015. These VR helmets are used with smartphones and do not compete directly with the Oculus Rift VR headset.
Compared to the Google Cardboard (less than 20 euros), both are good premium manufactured VR helmets (60 to 70 euros).
We have a little preference for the Homido (French/Chinese design), because we found that it had better VR feeling when we tried both at the exhibit (lenses can be adjusted in depth and in lateral distance which is really a great idea).  It is also shipped with an optional bluetooth controller (making the magnet useless ?). It would have been a good idea to also ship a magnet for compatibility with magnet enabled apps (such as VR Experience) – hopefully we had one in our pocket thanks to… Durovis !
The Durovis Dive 5 (German design) is now shipped with a nice designed magnet toggle and the Leap Motion system can also be added (we did not try it at the exhibit). It is also 10 euros less than the Homido helmet. Lenses can also be adjusted in depth and in lateral distance for better VR comfort.
A Durovis Dive 7 for small tablets (Nexus 7 …) is also available (a bit expensive as it is 115 euros at the moment) but it really looks great (we have also ordered one and it will be supported by our apps).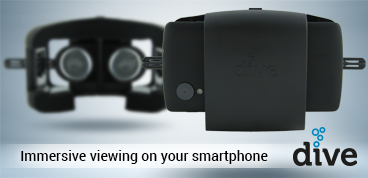 At the moment our application "VR Experience" needs a magnet to toggle start/stop walking (so we can say that the Durovis Dive 5 is maybe better supported).
You can buy one of those helmets on their official pages (please click on the images above).