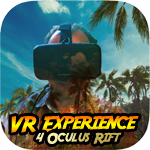 VR Experience 4 Oculus Rift is an exploration game for PC/Windows and Mac/OSX which uses the same 3D environments of the mobile version, plus a few extra.
The player moves into the game with a classic gamepad (or with the keyboard) and can be immersed into the 3D scenes thanks to the stereovision and tracking capacities of the Oculus Rift headset.
Feel free to try the PC/Windows demo (6 levels) or to buy the full version (24 levels for PC/Windows or Mac/OSX) for only €5.
Warning: current version not yet compatible with Oculus V0.7.0.0-BETA drivers. Use previous version drivers.
Demo:
VR Experience 4 Oculus Rift (PC Demo V1.1)
Full version:

Demo version snapshots: